In this article, we'll cover why you'll want security cameras in Perth. We'll share why you would want security cameras and how to choose a qualified security installer.
Why You Should Get Security Cameras in Perth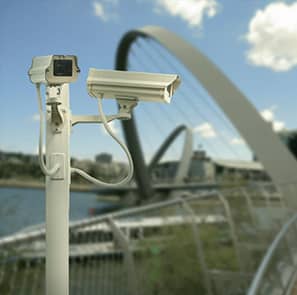 In the Perth metropolitan region for 2019-20, there were:
16,222 burglaries in Perth residential properties
4,529 burglaries in Perth businesses
4,956 motor vehicles stolen in Perth
If you are in a residential property in Perth, your chance of being a victim of burglary is 1 in 49.
While the health and safety of yourself and your family are the primary concern, money also plays a part.  According to the Australian Institute of Crime, the average cost of burglary in Australia is $2,400.
Residents are installing home security cameras in Perth for:
Protection and security around the property
Having a record of damage occurring, often caused by the neighbours.
Supervising their children and pets
Some insurance providers offer discounts for homes with security systems. But, a larger is discount is maintaining a no-claims bonus by having security cameras as a deterrent.
If you are at home with someone stalking outside, security cameras allow you to see what's going on without going outside and putting yourself in danger. If you become a victim of burglary, security cameras can work as a recovery tool by identifying the burglar and their vehicles.
How to Choose Security Cameras in Perth
You may have seen some security camera brands in Perth electronics retailers like Ring, Arlo, Eufy and Swann. Most professional installers will not install these due to their low reliability and not that much cheaper than a professional level system with a much better result.
If you need help deciding on which security cameras to buy, check out our ultimate guide linked below:
Choosing a Security Camera Installer in Perth
In Perth, there are laws on who can install security cameras.
The installation of data cabling must be done by a licensed cabler or an electrician with the appropriate training. It is illegal to do it yourself.
Operators who install security cameras or alarm systems must also hold a security installers license. This licensing test does not only test their understanding and capabilities, but it checks whether they have a past criminal record.
Unfortunately, many unlicensed operators in Perth advertise on social media, like Facebook and Gumtree. Hiring an installer without a license puts you and your family at risk. They have intimate knowledge of the products they are installing, know how to disable them, and know the layout of your house and its weaknesses.
Sources: